The Hex-Card
A downloadable map-making tool
I love collaging & I love hex crawls, so to prep for games I started combining them!
The Hex-Card is a simple tool that details my process and helps you make your own hex collages. Just follow the procedure below:
Print out a hex-card, making sure to print at "actual size" for a standard 1" hex or at a custom scale of your choosing.
Trim the edges and cut the hex out of the center. This can be done easily with a precision knife or by folding the hex in half and using scissors like a paper snowflake.
Use the removed hex or the hex-card window to trace however many connecting hexes you'd like for your map.
Give each hex a one-word label indicating what you'd like the hex to contain, whether it be something specific like "forest" or vague like "danger." *To gamify this step, take turns as a group assigning words to hexes!*


Gather collage sources. This can be anything from magazines, to newspapers, to Magic the Gathering cards as long as you don't mind cutting them up.
Using the hex-card as a window, find images that fit your keywords. *To gamify this step—or simply make it go faster—throw a collage party and search for images as a group!*

Trace hexes around appropriate images and cut them out.
With a glue stick or other adhesive, paste the found image to its corresponding hex.

Repeat steps 6, 7, & 8 until you've filled your map.

Lastly, to make borders more visible, ink any gaps between hexes with a marker or pen.

Now you have a unique, evocative hex map and can continue GM prep as usual! *Or, to use the collage as a basis for a story game, take turns moving from one hex to the next and interpreting what the images represent in a journey.*
The above was collaged from a November, 1967 issue of National Geographic, but I'd encourage you to think outside the box for your collage sources as well! For example, here's a second map made with the same keywords as Step 4 but collaged from an old One Piece volume instead (specifically the Dressrosa arc):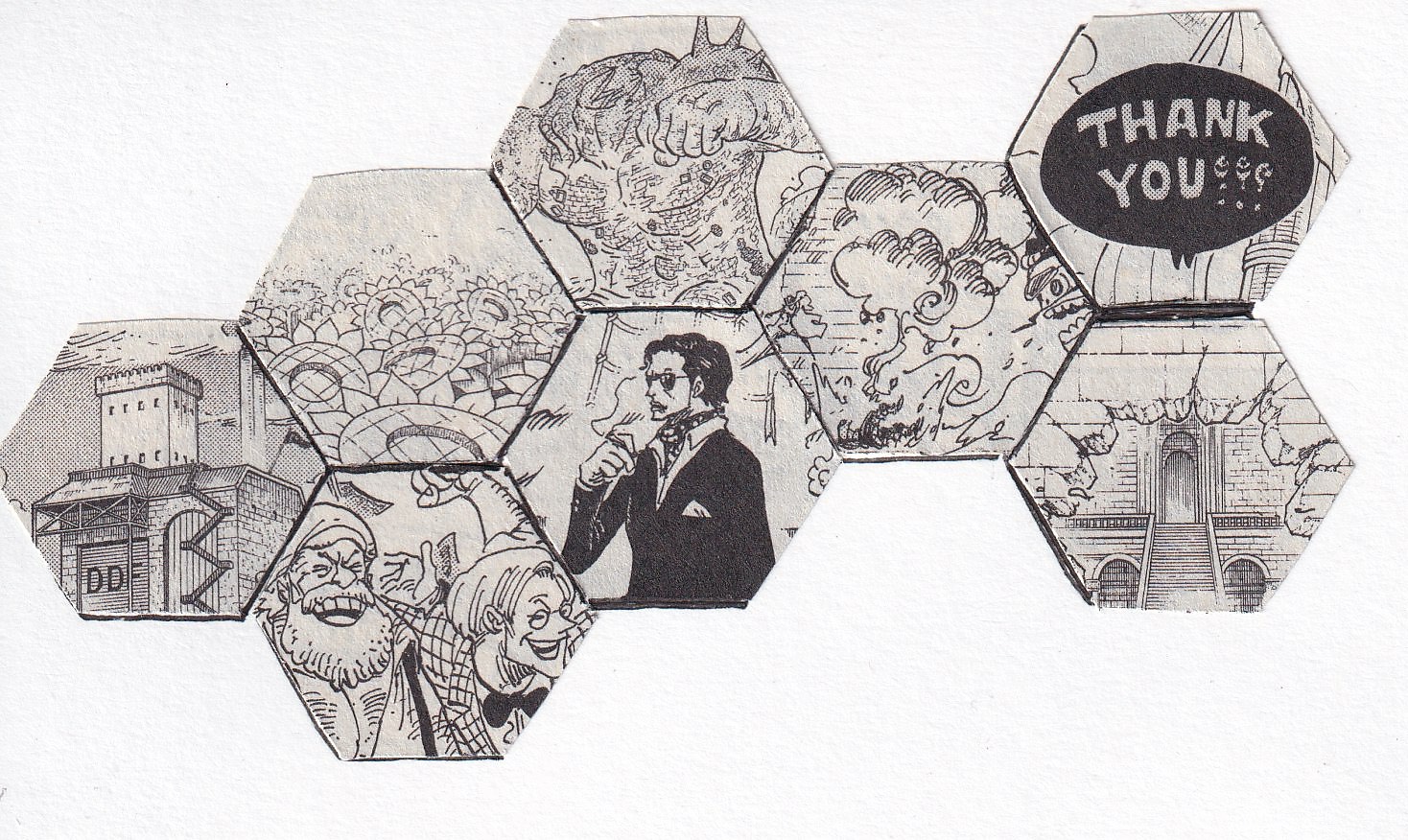 Enjoy, and if you create any collages with this method, please share them with me on twitter! Otherwise, feel free to use and repurpose this tool however you'd like!
Download
Click download now to get access to the following files: