DOTGEON
DOTGEON is a simple pen-&-paper game based on la pipopipette (popularly known as Dots & Boxes) first published in the 19th century by French mathematician Édouard Lucas. While similar to la pipopipette, DOTGEON incorporates random dice rolls into the game and creates a dungeon or building's floor plan for use in TTRPGs upon completion.
All you need to play DOTGEON is:
A drawing utensil
Two or more players
One six-sided die (d6)
A dot grid (included)
DOTGEON starts with an empty grid of equidistant dots. This grid can be any size, and need not feature an equal number of rows and columns. A large, 43x33 dot printable grid is included with these rules. Players are encouraged to draw or cut out grids at whatever dimensions they'd like, but a 10x10 minimum grid is recommended.
DOTGEON is a one-page game formatted to fit on a single, 8.5x11" letter-sized piece of paper.

Download
Click download now to get access to the following files:
Comments
Log in with itch.io to leave a comment.
Hey this game is broken and it's great.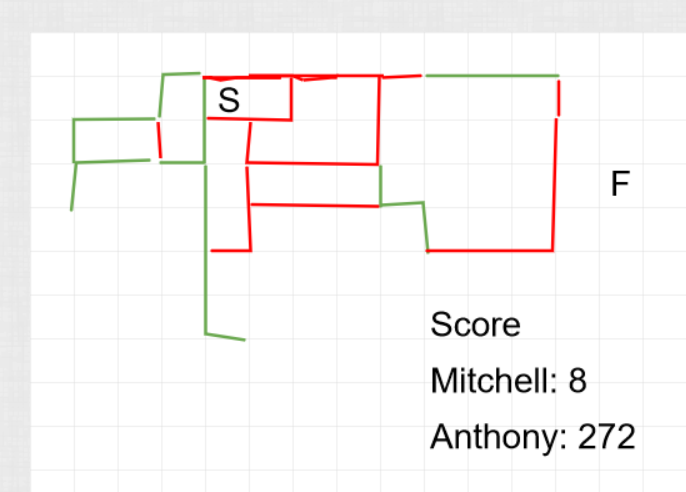 Niiiiiiiice. You're playing it exactly right! It's hard to break the Dots & Boxes habit of making lot of small rooms, but in reality even just a few big room REALLY rack up the points! Small rooms work much better as a way to BLOCK folks from making larger shapes. It's been fun watching the game teach people how to take advantage of the scoring system in real time, and it almost always leads to dungeons that start as a lot of small passages before opening up into larger rooms deeper in (which makes sense from a layout perspective!)
We also realised that you could do a map for a wizard's tower by restricting the play area to the dimensions of the previous game, and putting the S in that space so it matches the last game's F. It was pretty fun!
This is great. Competitive world building is a really intriguing idea! I will definitely be incorporating this into my worldbuilding sessions.
I'm glad you dig it! If you haven't yet, check out Beak, Feather, & Bone! It's also a (lightly) competitive worldbuilder, and there are a number of community hacks and supplements you can use to make it more so!
Beak, Feather and Bone has been on my to-buy list for a long while so I went ahead and bought it today. Looking forward to delving into community hacks and making some myself. Thanks!
I wish I could play it with you, your brothers, your niece and nephews, etc. Have a happy Christmas, fam

❤️ Sherry